2008年 01月 19日
新しく通園し始めたプリスクールは週4日制。
これから毎週金曜日は、JBとのデート日になりそう。ルンルン~♪
今日は、車で15分ほど離れた街、ライまでランチを兼ねたお散歩。
先週行ったママロネック通りより、オシャレ度↑。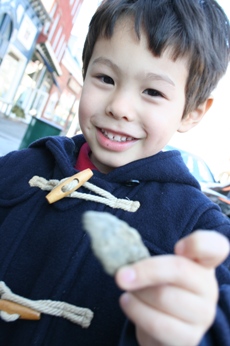 「ママ、これもってかえるっ!」と見つけてきたのは、いしっころ。
さすが、男の子。いつでもどこでも、石や木の枝に魅了されてしまうのです。
JBがそろそろ飽き始めた頃、ベーグル・ショップでらんち・たいむ。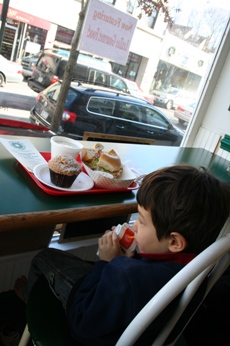 窓際に座ってかなりくつろぎながら、JBは車観賞。JB母はピープル・ウオッチング。
店内は、子供連れのママさんでいっぱい。にぎやかでした。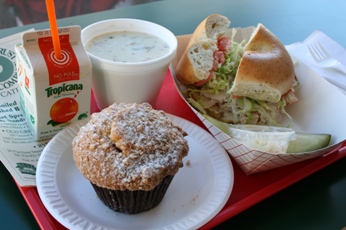 ↑は、ちょっと欲張ってオーダーしすぎてしまいました。(汗) 最近食べすぎかも?
本日もまたクラムチャウダー、ターキーベーグルサンド、コーヒーケーキ・マフィン。
今までベーグル・ファンでなっかた私ですが、コレ、かなりはまりそう。
ほのかなハーブの香りともっちもち感たっぷりでバッチリなお味。迷わずリピート決定。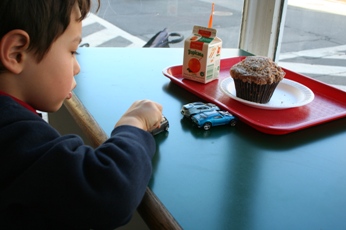 食後のマフィンが食べたくて、しばらくの間時間つぶし。結構ゆっくりくつろげました。が、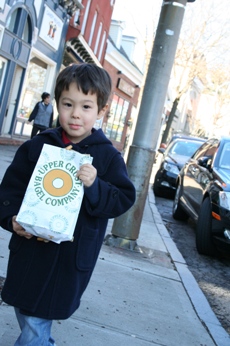 結局、おやつ用としてお持ち帰りにしました。
Upper Crust Bagel Company
29 Purchase Street
Rye, NY 10580
Phone: 914-921-3599
"Walk with JB in Rye"
JB's new preschool is 4 days a week. So from now on, JB and I will have a date on Fridays. Today, we drove up to Rye which is about 15 min by car from our home. Their main street is much cozier than the one on Mamaroneck Ave. but also much more sophisticated looking.
We walked up and down on Purchase Street until JB got tired of it. We decided to have lunch at a bagel shop. We sat by the window so that JB could enjoy car-watching, and I could do some people-watching. As usual, I ordered too much. But no regret since everything was better than my initial expectation. The bagel was simply delicious. I've never been a bagle fan but may become one after this. The herb bagel was so soft and chewy. The clam chowder was very tasty as well.
We were so full that we hang out for a while for the muffin. But at the end, we took it home for a snack later.
No doubt that this is a repeater!